Born in 1966 in Casablanca, Fatiha Zemmouri live and works between Casablanca and Marrakech.
She is graduated from Casablanca Art School.
Throught a polymorphic artwork, Fatiha Zemmouri carries a thorought thinking around the notion of construction, deconstruction, regenation and transformation.
She develops an elaborated work in wich the natural phenomenons (water, fire, earth) and materials such as wood coal, and dirt have an essantial place.
In all her works, Fatiha uses an abstract vocabulary to simplify nature's shapes , the fragility and the thinness of the employed materials give to her artworks a poetical aspect.
ARTIST SATEMENT
Fatiha Zemmouri is an artist who aims to be materialistic in the sense where the exploration of an expanded palette of materials is at the heart of her work. The game of polyphony is used to accentuate the chronology that marks the different stages of the process of development and evolution of material itself.
What interests her most in the metamorphosis, it is this in between : to analyze the complex mechanism of transformation and to highlight the notion of time that elapses between the starting object and the transformed object.
Loaded with tension, her works mark the various phases of the human mutation
and its evolution during the cycle of the life. The symbolism of the materials is an allegory through which Fatiha examines universal concerns related to humanity, to the tragedy of the existence, to the man facing his destiny and to the question of his finitude.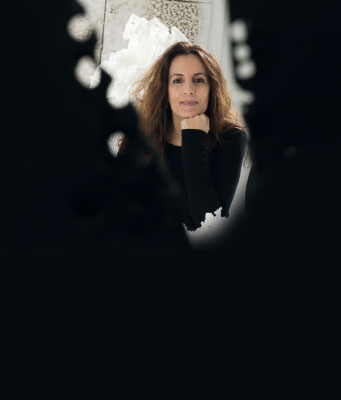 SOLO EXHIBITIONS
2020
"Intra muros", Comptoir des Mines Galerie, Marrakech, Morocco
2019
"Paper Borders", Galerie Katharina Maria Raab, Art Week Berlin, Germany
2018
"Materia Prima", Scuderie Ducali di Palazzo Acquaviva, Atri, Venice, Italy
2017
"Chant état transitoire", Galerie 38, Casablanca, Morocco
2016 
"Vibrations", Artspace Gallery, Dubaï, United Arab Emirates (UAE)
"Materia lumen", Dar el Kitab, Casablanca, Morocco
2013 
"L'Œuvre au blanc", Galerie 38, Casablanca, Morocco
2012
"Blanche est la nuit", BCK Art Gallery, Marrakech, Morocco
"L'Œuvre au noir", Galerie 38, Casablanca, Morocco
2011 
"Vivre la création artistique", CDG Foundation, Rabat, Morocco
"Matières mémoire", ab Galerie, Rabat, Morocco
2010 
"Architextures", Galerie Nadar, Casablanca, Morocco
"Œuvres récentes", Galerie Ré, Marrakech, Morocco
2008 
Galerie Cyril Shirch, France
2007 
"Elementerre", French Institute of Casablanca, Morocco
"Mémoire saturée", Galerie Nadar, Casablanca, Morocco
1999
Galerie Bab el Kebir, Rabat. Morocco
GROUP EXHIBITIONS
2021 
"The Sowers – Les Semeurs", Thalie Foundation, Brussels, Belgium
"Zone franche", Africa 2020, Institut des  Cultures d'Islam, Paris, France
"Réparer le monde" Saison Afrique 2020, MRAC Occitanie, Sérignan, France
Art Dubaï, Comptoir des Mines Galerie, Dubaï
2019
"Material Insanity", MACAAL, Marrakech, Morocco
2018
"Akal Argiles", Carte blanche, Espace Expressions Fondation CDG, Rabat, Morocco
"Jonction", Comptoir des Mines Galerie, Marrakech, Morocco
2017 
Art Paris Art Fair, Galerie Françoise Livinec, Paris, France
"Ailleurs est ici", Galerie Françoise Livinec – Ecole des filles, Huelgoat, France
2nd edition of the "Printemps du dessin", Galerie Delaporte, Casablanca, Morocco
2016 
"Not new now", Marrakech Biennale, Marrakech, Morocco
"Artistes marocaines de la modernité", MMVI, Museum of Modern and Contemporary Art, Rabat, Morocco
"Billboard Festival, Casablanca, Morocco
"L'art au féminin, une création plurielle", Bank Al Maghrib Museum, Rabat, Morocco
"Trames" – Carte blanche Mehdi Qotbi, Espace Expressions Fondation CDG, Rabat, Morocco
2014 
W5, BCK Art Gallery, Marrakech, Morocco
"Maroc contemporain", Institut du Monde Arabe, Paris, France
2013 
Fatiha Zemmouri – Sibylle Baltzer, Galerie Delacroix – French Institute of Tangier, Morocco
SyriArt, Pierre Bergé & Associés, Institut du Monde Arabe (IMA), Paris, France
2012 
"Between Walls", Kulte Gallery, Rabat, Morocco
2011 
La Galerie 38, Marrakech art Fair, Marrakech, Morocco
"Vivre la création", Espace Expressions Fondation CDG, Rabat, Morocco
2010 
DaK'Art 2010, Biennale de l'art contemporain africain, Dakar, Senegal
"Passerelles", Galerie Arcanes, Rabat, Morocco
Rencontres d'art contemporain, El Jadida, Morocco
2009 
"Convergences", Villa des Arts Casablanca, Morocco
"Design maghrebin", Galerie Croix Baragnon, Toulouse, France
"L'art pour l'environnement", Villa des Arts, Rabat, Morocco
"Métamorphose", Abattoirs de Casablanca, Morocco
"Untitled Zemmouri & co", Galerie Ré, Marrakech, Morocco
"Connections II", Galerie ré, Marrakech, Morocco
2008 
"A la recherche de nos atlas secrets", Espace Souffle, Casablanca, Morocco
2007 
Galerie Cyril Shirch, France
2006 
Galerie BC arts, Cameroun
Galerie Fan Dock, Rabat, Morocco
Biennale du design, Saint Etienne, France